You cannot add "Wired-421 | 4G Hardwired GPS Tracker with Nearly-Universal Coverage" to the cart because the product is out of stock.
Wired-425 | 4G Weatherproof Hardwired GPS Tracker with Backup Battery
$119.00
In Stock Free Ground Shipping
Ideal for tracking trailers, vehicles or assets.
Easy 2-wire installation. Simply connect black and red wires and tracker will start reporting.
Tracker uses the Verizon + AT&T networks so it will work almost everywhere.
Large backup battery lets tracker report for up to 90 days
Rugged, waterproof case rated IP67
Real-time tracking with 30 second updates.
Tracker can report maintenance information, including engine runtime hours.
Easy to use tracking from any iOS or Android phone or web browser.
Trackable throughout the US and internationally where there is 4G LTE-M or 2G cellular coverage.
---
A rock-solid 4G hardwired tracker
The Wired-425 is designed for reliability in demanding conditions. The tracker is waterproof (rated IP67) and can be used to track vehicles and equipment. Easily track employees, cars or assets with our cloud-based apps. The Wired-425 can be tracked from a web browser or any iOS or Android device. Get real-time alerts when the tracker leaves a geographic area (a geofence).
The tracker that works everywhere
All GPS trackers send their location information back over the cellular network. The Wired-425 is special because it works on both the Verizon and AT&T networks. This means if either (or both) of these carriers have cellular coverage in your area, the tracker will work great. Most of the US and many international destinations have this coverage, so the tracker will work almost everywhere.
Fast, free shipping on US orders.
You can activate your tracker when you receive it.
100% Satisfaction and 30 day money back guarantee.
Quantity discounts for multiple trackers:

Quantity
Price
10 - 49
$96
50 - 99
$94
100 - 499
$91
500 - 999
$90
One tough tracker
The Wired-425 tracker is ideal for tracking trailers, vehicles, equipment, and assets. The tracker is designed to report, even in tough conditions. The IP67 waterproof rating means that it can be used in exposed, outdoor locations. It delivers reliable, consistent tracking everywhere it goes. See where the tracker is at any moment as well as the historic locations of everywhere it has traveled. Get notifications when the tracker enters or exits designated locations (a geofence).
Tracking for up to 90 days, even when unpowered
The Wired-425 has a large backup battery that is useful for tracking trailers and assets that are used infrequently or are not regularly powered. The tracker will continue to report for up to 90 days (depending upon reporting interval) when unplugged from its power source. When the tracker is plugged into power later, it will automatically recharge itself. The tracker has flange mounts for easy attachment to any vehicle or asset. Installation is easy and only requires the red and black wires to be connected to power.
The hardwired tracker that works almost everywhere
Trackers work by sending their location data back over the cellular network. This lets you see exactly where your tracker is at any moment. The Wired-425 has a special configuration that lets it work on either the Verizon or AT&T network (depending on which carrier has a better signal in your location). This provides incredible tracking reliability throughout the US and worldwide.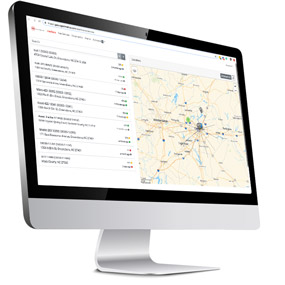 A beautiful tracking dashboard
Logistimatics makes it easy to track and manage one tracker or thousands of trackers. We provide helpful map views that allow you to see all your trackers on a map with a quick glance. You can be updated if trackers did or did not move recently. You can also be alerted if a tracker moves into or out of a designated area. Our web-based tracking dashboard is intuitive and easy to use. Share trackers with other team members or with other parties with a single click.
Easy installation - just two wires
The Wired-425 includes a wiring cable with a modular connector. Simply connect the red and the black wires to the power and ground in your vehicle and the tracker will immediately start reporting its location. You have the option to connect the white wire to the ignition switch to track engine run time. This feature is useful for capturing engine hours for equipment maintenance.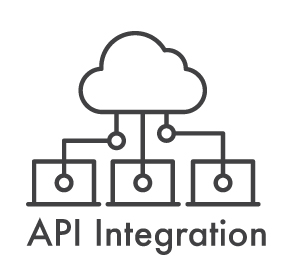 Integrate location data into your existing tracking workflows
You can use tracker data directly in your existing software workflows with our easy to use API. Integration is easy and we can assist with the process of bringing location data into your current software systems. The API will update your software in real-time as your trackers move around the country or around the world.
Specs:
Ideal for tracking vehicles, equipment or assets
Real-time GPS tracker with 30 second updates (configurable)
You can use any carrier on your cell phone. Tracker has its own SIM card
Works on the 4G cellular network (either Verizon or AT&T depending on which has a better signal)
View historic locations for tracker
Easy two-wire installation
Real-time reporting and geofencing options. Report frequency is configurable
Waterproof Rated IP67
-22 to 176F operating temperature (-30 to +80C)
Dimensions: 5.3″ long x 2.4″ wide x 1.5″ thick (135mm(L) x 62mm(W) x 38mm(H))
Weight: 11.28 ounces (320g)
Inside the box:
Wired-425 GPS tracker
Wiring with modular connector
SIM Card (installed in tracker)
Getting started guide