Wired-300 3G Hardwired Vehicle GPS Tracker with engine runtime reporting
$54.95
In Stock Free Ground Shipping
Track vehicles and assets with a reliable, wired 3G tracker.
Easy 2 wire installation. Simply connect red and black wires.
Real-time tracking with 30 second updates.
Optionally track engine runtime (engine hours).
Tracker includes a backup battery so the tracker will continue to report even if power is cut.
Easy to use tracking from any iOS or Android phone or web browser.
---
Highly reliable tracking
The Wired-300 tracker provides rock-solid results and consistent tracking. Get up-to-the-moment location updates everywhere your vehicle travels. Its small size allows it to be placed inconspicuously in the vehicle. Easily track cars or assets or fleets with our cloud-based apps. The Wired-300 can be tracked from a web browser or any iOS or Android device. Get real-time alerts when the tracker leaves a geographic area (a geofence).
Installation is a breeze
To install the Wired-300 GPS tracker, simply connect the red and black wires on the provided cable to your vehicle and mount the tracker with the adhesive pad. When the device is powered on, the tracker will immediately begin reporting its location. The tracker is designed to provide consistent, reliable tracking for personal and commercial vehicles and equipment. It's small form factor and weatherproof enclosure make it perfect for tracking equipment, trailers or other assets.

Fast, free shipping on US orders.
You can activate your tracker when you receive it and can purchase GPS tracking service.
100% Satisfaction and 30 day money back guarantee.
Quantity discounts for multiple trackers:

Quantity
Price
10 - 49
$49.46
50 - 99
$48.36
100 - 499
$46.71
500 - 1000
$45.06
View all discounts with our Quote Calculator.
A reliable, cost-effective tracker for vehicles
The Wired-300 tracker is an effective and affordable tracker for any vehicle or equipment tracking application. Track in real-time with your cellphone or with a web browser. The tracker fits easily in the palm of your hand. Its tiny size makes it easy to find a place to install it. The built-in battery lets the tracker continue to report, even if the wiring is disconnected.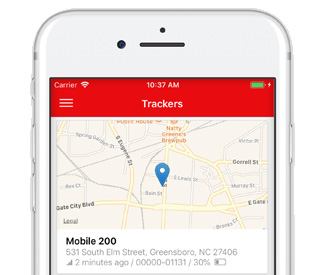 Getting started with the Wired-300 is easy
Tracking the Wired-300 is simple. You can track from any web browser or any iOS or Android device by downloading our free tracking app. You'll get up to the moment location information and alerts when the tracker moves into or out of a designated area.
Simple 2-wire installation
The Wired-300 includes a wiring cable with a modular connector. Simply connect the red and the black wires to the power and ground in your vehicle and the tracker will immediately start reporting its location. You have the option to connect the orange wire to the ignition switch to track engine run time. This feature is useful for capturing engine hours for equipment maintenance.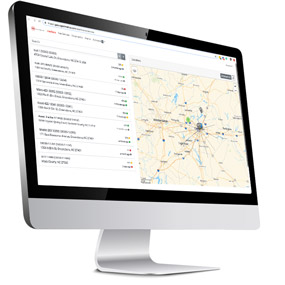 Track all your vehicles with a great dashboard
View all your trackers in a single, easy-to-use dashboard. See which trackers have moved recently and configured alerts when a tracker enters or leaves a location.
Share trackers with team members and share trackers or one-click tracking links for outside parties
See color-coded trackers based on which trackers have recently moved
Change tracker location report frequency and manage tracker names
You an integrate tracking data into your existing software using our API
Specs:
Ideal for tracking vehicles or equipment
Real-time GPS tracker with 30 second updates (configurable)
Works on the 3G cellular network
Extremely small form factor can be easily concealed or carried
Two-wire installation with option to track engine run time
View historic locations for tracker
Real-time reporting and geofencing
Get alerts when the device leaves a designated area
Built in backup battery
-4 to 158F operating temperature
3.5″ long x 1.77″ wide x .5″ high, 2.2 ounces
Inside the box:
Wired-300 GPS Tracker
6' Wiring with modular connector
Adhesive mounting pad
SIM card
Getting started guide