Asset-422 | 4G GPS Tracker with 3-Year Battery
In Stock Free Ground Shipping
Are you a business and need 10+ devices? Contact Sales for pricing discounts
Ideal for tracking equipment, electronic assets, medical equipment, and containers.
The battery can last up to 3 years with 1 GPS position report per day.
Tracking works on the 4G network.
Tracker has a rugged, waterproof IP67 enclosure.
An optional magnetic mounting plate can be attached.
Anti-tamper switch alerts you if the tracker is ever removed. Get an instant text or e-mail alert.
Trackable throughout the US and internationally where there is 4G LTE-M or 2G cellular coverage.
---
A long term tracker without battery maintenance
Asset-422 GPS Tracker is a small, 4G LTE, mobile tracker designed for long term multi-year use without recharging. It's roughly the size of a deck of cards and has an ultra-low power standby mode that enables tracking for up to 3 years on a single battery. The battery is replaceable but not rechargeable.
Great features and incredible battery life
The Asset-422 is ideal for tracking property, equipment, and assets while minimizing any need for charging or maintenance. Its small size allows it to be placed anywhere. The tracker is waterproof and has an optional magnetic back that allows it to be mounted anywhere. The tracker works on the 4G cell network and is highly reliable. An anti-tamper switch alerts you if the tracker is ever removed. Get an instant text or e-mail alert if your tracker is removed.
Important:
The battery will last up to 3 years at
one
GPS location per day reporting. The battery is replaceable but not rechargeable. The following options and approximate battery life are specified below:
1 location report per day = up to 36 months
2 location reports per day = 18 months
4 location reports per day = 9 monthsNote: Asset-422 is designed for long-term tracking and only reports it's location a few times per day. If you're tracking a car and want to see its movement traced on a map, we recommend the
Mobile-200
. If you have any questions about the suitability of this unique tracker for your application, please
contact us
.
Fast, free shipping on US orders.
Ideal for tracking high-value property
The Asset-422 tracker is ideal for tracking valuable inventory, equipment, and assets. Since the battery lasts for 3 years with no charging required, the tracker is ideal as a long-term solution for keeping tabs on company property and assets. The tracker has a small form factor and can be concealed easily.
Asset-422 works virtually everywhere
The Asset-422 works virtually everywhere and includes a SIM card. The tracker works anywhere there is 4G or 2G cellular service. It will track reliably throughout North America and beyond. Get detailed location information about your property, regardless of where it travels.
Tons of great features in a tiny package
The tracker has some powerful built-in features including a tamper alert function that will notify you if the tracker has been removed from its location. The tracker also has a waterproof form factor and can be used in outdoor/wet locations. The tracker has a waterproof rating of IP67. An optional magnetic mounting plate allows the tracker to be attached to any metal surface.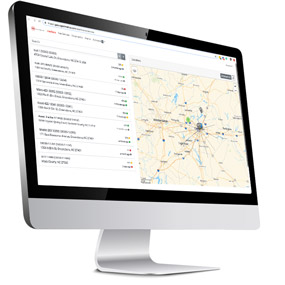 An intuitive tracking dashboard
Logistimatics makes it easy to track and manage one tracker or thousands of trackers. We provide helpful map views that allow you to see all your trackers on a map with quick glance. You can be updated if trackers did or did not move recently. You can also be alerted if a tracker moves into or out of a designated area. Our web-based tracking dashboard is intuitive and easy to use. Share trackers with other team members or with other parties with a single click.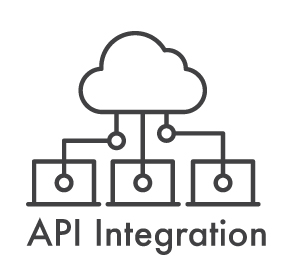 Integrate location data into your existing tracking workflows
You can use tracker data directly in your existing software workflows with our easy to use API. Integration is easy and we can assist with the process of bringing location data into your current software systems. The API will update your software in real-time as your trackers move around the country or around the world.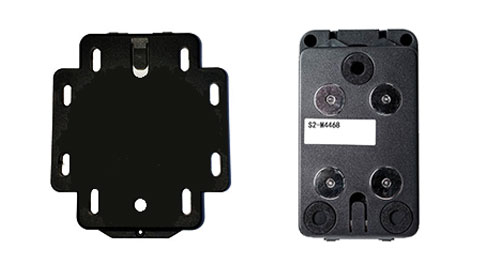 Choose your mounting option
If you need to attach the Asset-422, you have several options. You can purchase a magnet mount to attach the tracker equipment or assets. The magnetic mount will keep the tracker securely in place.
You can also use a screw-in mounting bracket. The screw-in bracket lets you permanently attach the tracker. It includes both the bracket and mounting screws.
Specs:
High powered lithium-ion battery designed for up to 3 years use without recharging
Works on the 4G cellular network. Trackable throughout much of North America
Battery is replaceable but not rechargeable
Tamper switch automatically alerts you with location when tracker is removed
SOS button on tracker allows for notifications when pressed (optional)
Waterproof, dustproof enclosure – Rated IP67
View historic locations for tracker
Real-time reporting and geofencing options. Report frequency is configurable
FCC, Verizon, and AT&T certified
Battery: Non-rechargeable 3 CR123A lithium batteries, 1400 mAh
-13 to 140F operating temperature
3.43″ long x 2.01″ wide x 1.32″ thick (87 mm length x 51 mm width x 33.5 mm thick), 5.64 ounces.
Inside the box:
Asset-422 GPS tracker
SIM Card (installed in tracker)
Getting started guide