Auto-325 OBD Tracker for Vehicles | 3G GPS Tracker with Live Audio
$59.00
In Stock Free Ground Shipping
A reliable 3G real-time car tracker with audio.
Tracker never needs to be recharged. Simply plug into the car OBD port to start tracking.
Ideal for tracking personal or company vehicles.
Live audio monitoring lets you hear what's happening inside the vehicle..
Real-time tracking with 30 second updates.
Easy to use tracking from any iOS or Android phone or web browser.
---
The easiest, most reliable way to track a vehicle
The Auto-325 simply plugs into a vehicle's OBD port. All vehicles are equipped with OBD port near the driver's seat. Simply plug the Auto-325 into this port and the tracker will automatically start reporting its location to your cell phone. This tiny tracker gives you an up-to-the-moment view of where your vehicles are right now and everywhere they have been. The Auto-325 can be tracked from a web browser or any iOS or Android device. Get real-time alerts via text message or the tracking app when the tracker leaves a geographic area (a geofence).
Live audio lets you hear what's happening
To hear audio from inside the vehicle, simply send a message to the tracker with the mobile app. It will immediately call your phone back and open an audio channel to the vehicle. The Auto-325 is a great way to keep up with your vehicles and understand the location as well as what's happening at the tracker location.
Fast, free shipping on US orders.
You can activate your tracker when you receive it and can purchase GPS tracking service.
100% Satisfaction and 30 day money back guarantee.
Quantity discounts for multiple trackers:

Quantity
Price
10 - 49
$57
50 - 99
$56
100 - 499
$54
500 - 999
$49
Perfect for fleets
The Auto-325 tracker is ideal for companies who want to keep track of their company vehicles. See the speed of the vehicle, stops it made (with time and duration) as well a history of everywhere the vehicle has been over time. You can also get alerts when vehicles leave or enter an area. See all your vehicles an easy-to-use dashboard give other users the ability to track and manage vehicles.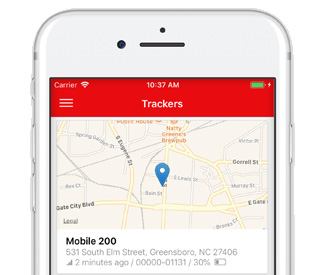 Getting started with the Auto-325 is easy
Tracking vehicles with the Auto-325 is so easy. You can track from any iOS or Android device by downloading our free tracking app. You'll get up to the moment location information and alerts when the tracker moves into or out of a designated area. Simply plug the tracker into the and will start reporting its location.
Track and listen
In addition to real-time location tracking, you can also hear what's happening inside the vehicle. To hear live audio inside the car, you simply send a command from the tracking app. The tracker will call your cellphone and you'll be able to hear audio from inside the vehicle.
Watch it in action
The Auto-325 has a lot of features and works great for all kinds of vehicle tracking applications. The live audio feature and no tracker battery to charge make it a perfect choice for tracking a car or truck. Get reliable, real-time tracking with an easy to use tracking app.
Specs:
Real-time GPS tracker with 30 second updates (configurable)
Live audio monitoring (supported in the US only). Live audio can be disabled on tracker
Works on the 3G cellular network
No battery to charge, simply plug the tracker into the vehicle
Small, non descript form factor can be easily concealed
Ideal for tracking fleet or personal vehicles
View historic locations for tracker
Real-time reporting and geofencing
Get alerts when the device leaves a designated area
-4 to 140F operating temperature
3.47″ long x 1.77″ wide x .8″ high, 2.2 ounces.
Inside the box:
Auto-325 GPS tracker with live audio
SIM card
Getting started guide