Micro-420 | 4G GPS Tracker with Nearly-Universal Coverage
$49.95
In Stock Free Ground Shipping
A tiny, reliable 4G real-time GPS tracker.
7-10 days of battery life between charges.
Ideal for tracking vehicles, people or assets.
Tracker uses the Verizon + AT&T networks so it will work almost everywhere.
Real-time tracking with 30 second updates.
Easy to use tracking from any iOS or Android phone or web browser.
---
A Tiny, Reliable Tracker
The tiny Micro-420 can be used to track anything with pinpoint accuracy. Its small size allows it to be placed inconspicuously in a vehicle, with a person or on property. Easily track employees, cars or assets with our cloud-based apps. The Micro-420 can be tracked from a web browser or any iOS or Android device. Get real-time alerts when the tracker leaves a geographic area (a geofence).
The Tracker That Works Everywhere
All GPS trackers send their location information back over the cellular network. The Micro-420 is special because it works on both the Verizon and AT&T networks. This means if either (or both) of these carriers have cellular coverage in your area, the tracker will work great. Most of the US and many international destinations have this coverage, so the tracker will work almost everywhere.
Fast, free shipping on US orders.
You can activate your tracker when you receive it and can purchase GPS tracking service.
100% Satisfaction and 30 day money back guarantee.
A tiny tracker with great reliability
The Micro-420 is a tiny tracker that fits easily in the palm of your hand. You get all the benefits of a small, lightweight tracker and great reliability. Track in real-time with your cellphone or with a web browser. The Micro-420 is an excellent vehicle tracker, asset tracker, and personal tracker. The Micro-420 includes a USB charger and charging cable and a SIM card so you have everything you need to start tracking immediately.
The tracker that works almost everywhere
Trackers work by sending their location data back over the cellular network. This lets you see exactly where your tracker is at any moment. The Micro-420's special configuration lets it work on either the Verizon or AT&T network (depending on which carrier has a better signal in your location). This provides incredible tracking reliability throughout the US, Canada, Mexico and beyond.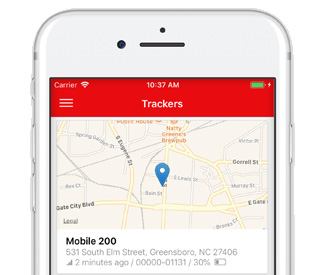 Getting started with the Micro-420 is easy
Tracking the Micro-420 is simple. You can track from any iOS or Android device by downloading our free tracking app. You'll get up to the moment location information and alerts when the tracker moves into or out of a designated area.
Add a magnetic case
Want to track a vehicle, asset or equipment outdoors? You can purchase a waterproof magnetic case. The case for the Micro-420 protects your tracker and is completely waterproof. The case has a strong built-in magnet and is ideal for situations where you want to place the tracker outdoors and still be able to access it easily.
Specs:
Real-time GPS tracker with 30 second updates (configurable)
Works on the 4G cellular network (either Verizon or AT&T depending on which has a better signal)
You can use any carrier on your cell phone. Tracker has its own SIM card
7-10 days of battery life between charges
Extremely small form factor can be easily concealed or carried
SOS button on tracker allows for notifications when pressed (optional)
Ideal for tracking vehicles, people or assets.
View historic locations for tracker
Real-time reporting and geofencing
Get alerts when the device leaves a designated area
Built in battery. 2600mAh lithium-ion rechargeable
-4 to 131F operating temperature
3.07″ long x 1.57″ wide x 1″ high, 3.46 ounces.
Inside the box:
Micro-420 GPS Tracker
Battery charger and USB cable
SIM card
Getting started guide